i just installed a set of Hotchkis sport springs today. they were exactly what i was looking for. i wanted a simple, stock-wheel-gap-closing drop with similar ride characteristics to the stock springs. i bought them for $162 shipped from jscspeed.com. they price-matched to what stikiller.com was selling them for and i received them via FedEX in 1 DAY!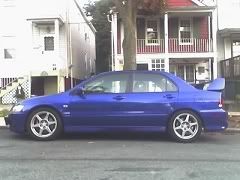 i've only driven on them for about 5 miles and i am very happy so far. the car looks much better, the drop almost makes it look a little wider too. the ride is perfect, i feel no difference in the ride, but there is MUCH less body roll.
Front 1.5" Drop 195lb/in (200lb/in Stock)
Rear 1" Drop 275lb/in (270lb/in Stock)
the car pulls very slightly to the right. i'm going to wait until the springs settle in a bit more until i do a simple alignment.
edit, i
just
realized how old this thread is but hopefully it will help some people out.