In a nutshell, I no longer want to run a PCV valve. I don't want to take the chance of it being a boost leak. But therein lyes the problem. I still would like some sort of negative pressure (vacuum) source to help pull (evacuate) the crankcase pressure and all of the blow-by in there. I don't feel it will adequately evacuate itself without the help of a pressure source on the other side.
Here is how I have mine set-up currently:
This is a decent set-up, IMO. It is about as good as it can get, without having that negative pressure source that I am looking for.
I would rather not use the intake manifold for a vacuum source, unless I could find a one-way check valve (PCV valve) that was guaranteed not to leak on turbocharged applications. And I don't feel the intake tube will supply enough vacuum to make much of a difference in the evacuation process.
So, this leads me to my next idea. To possibly use the exhaust to evacuate the crankcase.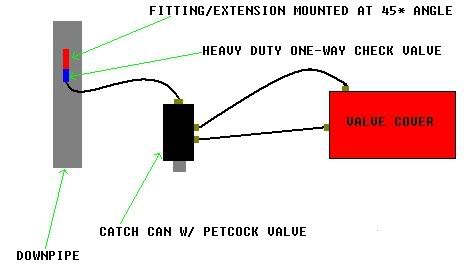 What do you guys think of this set-up?
My largest concern is oil contamination. I did a compression test yesterday, and the results were very pleasing. But I am still getting a large amount of blow-by. I could only imagine how much of that doesn't make it's way out of the crankcase and contaminates my engine oil. That is my concern for a negative pressure source for the crankcase.