Discussion Starter
·
#1
·
I didn't get into autocrossing until the Spring of last year, but loved it. After doing it for a few months, I got the itch to try some road racing, so I attended a NASA Mid-Atlantic event at Summit Point, WV. I started off in HPDE1, naturally, and absolutely loved it. My instructor recommended my move up to HPDE2, which made the experience all the more rewarding. That was at the end of the season, so I had to wait until this past weekend to get back on the track. Since the first event, I have moved to Colorado, so I was very pleased and fortunate to hear that NASA had just started a Rocky Mountain region - perfect timing. So, this past weekend at PMI was the NASA-RM region's first event!
I started off in HPDE2 but had hopes of moving to HPDE3, if possible, by the end of the 2-day event. I notified the group 2 lead instructor so that he could evaluate me when he had time. Unfortunately, due to having more HPDE1/2 cars than instructors, none of us in HPDE2 got to have one. This meant that I wasn't able to be taught the best line while in-car nor have my inevitable mistakes point out to me. Oh well, still plenty of fun to be had!
So, I went through a few sessions of HPDE2 and was doing quite well at least in comparison to the other HPDE1/2 cars (had us mixed so that all of HPDE2 wasn't out there without any instructors whatsoever). Due to being mixed with the slower HPDE1 cars (in general), it was starting to get kind of frustrating, but I took the slower laps as opportunites to practice the line on certain turns by doing quick bursts then falling back, then quick bursts and falling back. This worked well and luckily was observed by my lead instructor who had ended up in a car behind me while doing it. He talked to me about it and said he would be able to ride with me in the first session on Day 2, since some HPDE1 cars were only attending for day 1.
After dealing with some wheel stud problems (thanks to an SRT-4 owner and his crew) in the morning, I was able to suit up for the 2nd session of HPDE2 with my lead instructor in tow. He let me go 2 full laps without saying a word, but then he gave me the goods. I was making some mistakes that I thought were the proper way to drive, but he showed me they weren't. I was able to adjust and act upon his advice, which I found to be very accurate after figuring out how to do it. After we came in, he told me to continue working on that new technique, but that I was ready for HPDE3, so he signed off on my NASA passport. This is when the real fun begin!
They were allowing HPDE3 to rent transponders, so I got one before the 3rd session of the day, which was my first ever HPDE3 session. I was just curious to get some empirical evidence of where I stood compared to the rest of HPDE3 and maybe even the HPDE4/TT/Race cars. Up to that point, most of HPDE3 appeared relatively slow, but it did have a few cars at the top who were doing well. The fastest HPDE3 car was a C4 Vette pulling 1:48s followed by a Z06 doing 1:50s, then an SRT-4 right behind doing 1:50-1:51s but on some sticky street tires (not r-comps). In the race group, there was a badass Viper pretty much destroying everyone, even a trailered, stickered, loud-as-hell American Iron Camaro SS driven by an instructor. His times gradually improved until his best of 1:45.8 just before my first try.
Well, I lined up behind the rest of HPDE3 thinking that I didn't want to get in their way and to see if I could keep up without having to constantly check my rear-view mirror. We took off, and I was hoping to do a full warm-up lap, but these guys must have a different definition of "warm up." I was actually struggling to keep up without getting on the boost, which I didn't like, but I wanted to stay close. By the time we almost completed our first lap and were on the back straight, I was directly behind this line of cars: Evo -> C5 Z06 -> C4 Coupe -> SRT-4 -> Mini Cooper S. On this back straight, I came around the turn hard and hit full boost in 4th quickly, so the Z06 waved me by. Hmmm, ok, didn't expect that. After having to hesitate and let off boost before passing, I lost a little ground on the other pack. We all round the next 2 turns, then hit the main straight. I hit full boost in 4th before finishing this last turn, so I'm able to make up some ground on the C4 down the straight, but not in time to pass before turn 1. The SRT-4 passed the Mini, though, so it's now: Z06 -> Evo -> C4 -> Mini -> SRT-4. Now, through the twisties, the SRT-4 was struggling a bit due to the street tires and obvious limitations with FWD, so all of our gaps were tight all the way to the back straight where the SRT-4 pulled away a little on the Mini, but there was not enough room for the Coupe or myself to pass. After the last 2 turns, we came onto the straight, and the SRT-4 was further ahead, but the C4 was now able to pass the Mini. Unfortunately for me, I was gaining on the C4 faster than he was passing the Mini. I basically came right up on the Mini, but had to wait, because the C4 was passing wide. Well, this is when I noticed that the C4 went WAY TO THE RIGHT as if leaving me a middle gap, so I took it and passed both by splitting them. What an awesome feeling passing 2 at once down the 1/2-mile straight. This allowed me to go balls out to catch the SRT-4 who had finished the straight almost. By turn 3, I had caught up, which is when the SRT-4 over-rotated, caught a little dirt with his outside 2 wheels, then upon correction ended up offline, so he quickly pointed me by...
After that, I was home free. I had passed each of the remaining HPDE3 cars had open track ahead of me, the likes of which I'd never had in any session of road racing before. The C4 valiantly kept up with me fairly well through the rest of the twisties, but once I hit the 2 straights, the gap just widened and widened until I eventually couldn't see him anymore. After 5 straight laps of unabated, uncontested, unrestricted balls-out hauling ass, I started to get worried about how hard I beating on all the systems (clutch, tranny, engine, brakes), so I slowed down and self-pitted myself. Interestingly, just as I did this on the last turn, I got black-flagged, because the corner worker saw my brakes glowing. That's new for me! So, I came in, the safety crew checked the car over, said I got things a little hot and that I was free to go back out in a minute, but I felt it was time to pull in and take a break. That was the fastest I had ever gone in any car for such a sustained period. I learned a new lesson about road racing - the old slow and steady wins the race or whatever. I would not have finished a 20-25 minute race at that pace. Some cars may be built properly to sustain such abuse for that long, but mine is only lightly-prepared for such things with just a set of tires, some brake fluid, and some ceramic pads. I know that in the future, I'll need to either be more prepared or drive at 80-90% instead of 100%. Or, since I don't plan to race bumper-to-bumper for a while, I could focus on my current goal of reaching the time trial level where I can bust out a few hot laps, then retire.
So, what's the result of all this? I knew that since I had run away from the other HPDE3 cars that my time would be pretty good. Remember that the C4 had run a best of 1:48 while the fastest car on the track to that point had been the Viper with a 1:45.8. Well, I went into the tower and was told that I ran a 1:45.5!! .3s faster than the Viper's best time in 7 full sessions and just over 2s faster than the C4, who incidentally managed to beat his previous best by a full second while chasing me! It's possible that the Viper wasn't in full race mode or wasn't going 100%, of course, but just the fact I put down a similar time after watching him destroy everyone in the HPDE4/TT/Race classes for a day and half made me a happy man! I went out for my last session just to make sure I could duplicate the times but with no plan of going full bore the whole session. I did 2 full warmup laps at half speed, then tried to hammer it for 2 good laps or so. I thought I might have done better, but after coming in, I found out that I did a 1:46 like most of my other laps, but not as good as my best lap. Oh well, at least I know it wasn't a timing fluke or malfunction, so I'm still stoked.
I can thank my great combination of mods that includes Buschur power, Forge parts, GSC cams, and of course a great tune by Al himself just a week ago! My Ecsta V710s were champs, and my stock suspension alignment was done beautifully by Rex Tires here in Colorado Springs. Here's a few pics with many more to come when the photographer finishes editing: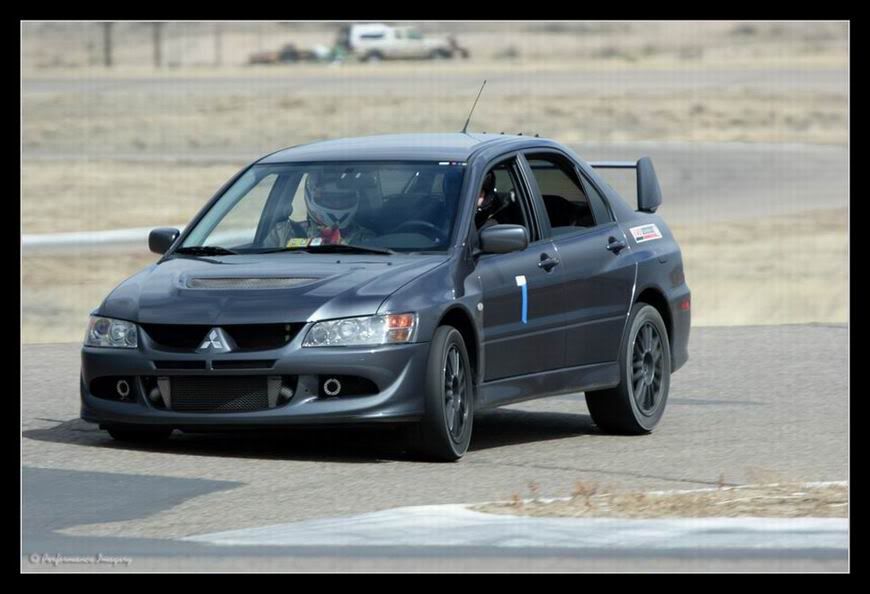 On this 2nd pic, the photographer said:
"Clayton, Your car was LITERALLY going so fast through some corners I had to compensate by using a 1/125 or 1/160th shutterspeed. To get rather good pans on the car. Everyone else was around a 1/60th or 1/80th which is HALF as slow as the ones needed for yours. I will say man....you drive that thing like you stole it."
Not a bad 3rd-party testimony!