Discussion Starter
·
#1
·
For those of you who don't frequent EvoM, here is where my car stands now after the most recent mods. I will list the mods and conditions first:
Mods:
Megan 3" Catless TBE
Forge UNOS MBC
Forge RS BOV
Forge Wastegate Actuator
Buschur Racing Air Filter Kit
Buschur Racing ported/coated stock exhaust manifold
Buschur Racing ported/coated stock 10.5 hotside
Ebay O2 Housing
Walbro 255lph Fuel Pump
SMC Alcohol Injection Kit
Custom Dynoflash
Stock Parts:
Upper and Lower IC piping
FMIC
Injectors
Cams
Cam Gears
FPR
MachV Dynojet with 424 rollers front and rear - 67* and raining with humidity around 50%. Also, please take note that all of these figures are uncorrected, but that's on purpose. SAE figures were 8whp/8wtq lower or so...
This is where I started - baseline pull on pump gas and boost gauge saying 22-23psi, but MAP sensor only showed 19psi, DOH!
I thought I had been driving around at 22-23psi the whole time...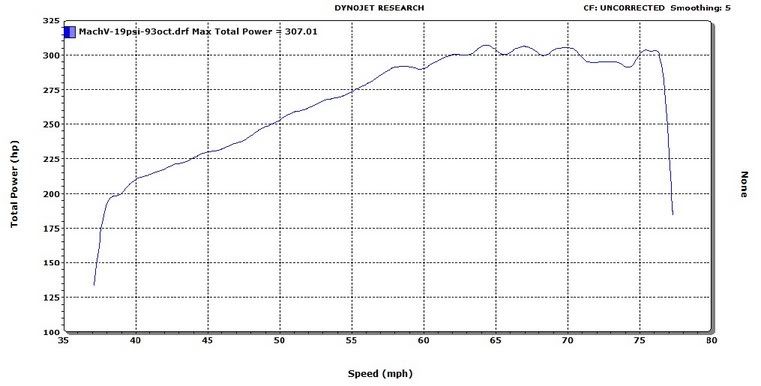 Alky @ 26psi - we tested 28psi and even 30psi, both of which gave significantly more power, but I wanted a reliable daily-driven tune at moderate boost, so I can use it for road racing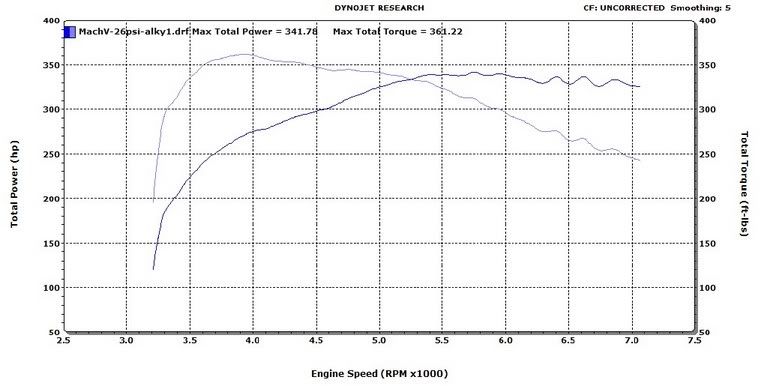 Comparison of the two - can't show torque, because the 19psi run didn't get a good rpm reading, so the tq is all screwed up (also why I have to show mph instead of rpm)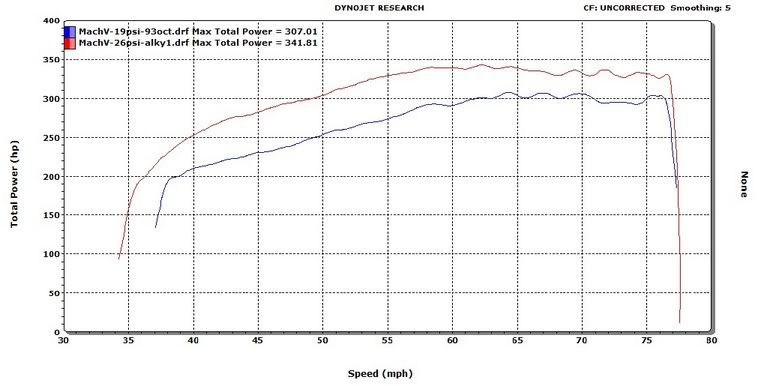 What you can't see is the 60+wtq gain between the 2 curves, but as you CAN see, the peak WHP gain isn't nearly as much as the total gain in area under the curve. I'm thinking that I'm losing some power up top due to boost (bov/wga) or ignition reasons. Otherwise, the WHP curve might continue to climb instead of flattening then falling off. It may just be that the turbo can't efficiently produce power at that boost level without cams, ic piping, and/or FMIC to allow it to breath and not get heatsoaked. I will be shaving some threads off my Forge WGA, then re-installing it to see if there wasn't enough pre-load. I get absolutely no compressor surge even in 6th gear after doing a part-throttle lift at low boost with the Forge RS tightened completely, so something is out of whack. My BOV is opening too easily, so that may have been causing high rpm boost leakage that resulted in an overworked hairdryer that was just blowing hot air...
Comparison tidbits:
- An 05 with cams and alky @ 27psi put down 335whp just a week ago
- I ran
[email protected]
on 93oct before all this. In fact, the 307 baseline was after installing my ported/coated exhaust parts with which I have not raced.
- Tuned IX with axle-back did 270whp (not 300whp like some others have on other Dynojets)