Discussion Starter
·
#1
·
QUOTE=g-spot;193837]Here's the video from last year's meet:
TGCTXCRUISE_0002.flv video by clubtgc - Photobucket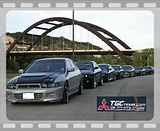 Here's the original thread on TGC
TI: 2009 TGCtexas Tri-City Cruise pre-plan - The Galant Center
Since there's a growing interest from Club3G, Club4G, and other forums we've decide to expand this to a Mitsubishi Tri-city cruise. Plus that weekend is a Hot Import Nights weekend so there's going to be a lot of spectators heading to Austin.
Here's the basic plan:
Like last year's cruise, we'll start in our designated starting point (DFW, SA, HOU) and then meet at Austin, TX around the given time from our planned schedule. Each route will have coordinator(s) leading the way.
The plan afterwards will be decided us (folks who are going) so if you have any cool places to have fun, now is the time to ask. Some of us will be at HIN supporting those competing while others can spend the evening at local outings, depending on the schedule. This meet should lasted until Sunday afternoon so plan to find a room at the local inn if you're staying the night. Let's make this a good outing
I'll update as we go.
List of people
who are
going: as of 2-12-09
1. G-spot (TGC)
2. Silver01G (TGC)
3. Jscout247 (TGC)
4. Ricky-Db (TGC)
5. Marlon (C3G)
6. PogiGreg (TGC)
7. Kalamidad (TGC)
8. ggalant01 (TGC)
9. Frankie (TGC)
10. Flutterbyfilms and co. (TGC)
11. Lavikie29 (TGC)
12.Asierra 999 (TGC)
List of people
not confirmed
1. 01on19s (TGC)
2. bloody arro (GF)
3. Rez887 (TGC)
4. da1085 (TGC)
5. einahpetsm (TGC)
6. Da-Gal (TGC)
7. Dominicano (TGC)
8. Lonestar25 (TGC)
9.[/QUOTE]
just found out who i will be cruising with 2 HIN!:thumb: