Discussion Starter
·
#1
·
Ok, so last week, I showed my new V710s and ask for some advice on how to set them up, and this is what I ended up doing:
- Mounted/balanced 245/45R17 Ecsta V710s on my stock 17X8 MR BBS rims
- 38psi Front, 33psi Rear (cold)
- Set stock suspension to -2.0f/-0.5r with 0 toe all around
- No springs, sways, bushings or anything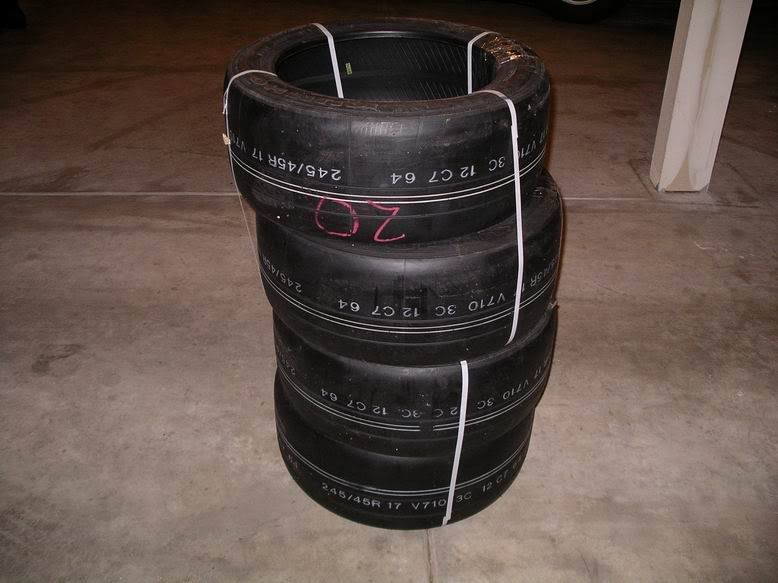 I participated in the 3rd Winter Event of the SCCA Rocky Mountain region within the SM class, which my car is not prepared for, but I wasn't interested in racing against 4 300ZX type cars in BSP. There ended up being 27 cars in SM (4 Evos), so it was a great challenge.
Well, the tires and alignment only got done on Friday, so when I installed the rims/tires at the event, it was the first time the V710s hit the ground. It was very cold up in Denver, and I wasn't sure how well the V710s worked when they were brand new without even the surface being scratched and when being ice cold. So, I went and drove them around some trying to get a feel for them, and they felt like my snow tires at first. I was concerned, because with my 360wtq, some new tires, and a fast track, I was afraid I'd be all over the place.
Boy, was I wrong. I didn't get to race until later in the day due to SM being in the final heat, but just before it was our turn to go, I went and drove around a little more to hopefully heat them up. Apparently, this was all I needed, because on my very first run, I put down a sub-50s time, which was my goal. To provide a frame of reference, my first run (49.7) was only .1s slower than the fastest run of the day in SM (other than me). The V710s gripped so well that I was underdriving. I kept expecting my typical push through turns, but it never happened. So, each run I learned the track better while also learning to push harder in places I was afraid to try originally. My subsequent runs were:
- 49.7 (1st run)
- 49.4 (2nd)
- 49.1 +1 (3rd)
- 48.8 (4th)
The 2nd place car was a Camaro SS with suspension, power mods, and 315/35R17 Ecsta V710s (yah, same as mine). His best run was a 49.6, so I had 2 clean runs better than anyone else all day (3 raw runs). Also, no other SM car even got under 50s. Now for the caveat...since it was a "Winter Event," there were no trophies and no points awarded. Therefore, I don't think ANY of the _real_ SM cars were there. No trailored or gutted, 100% race-prepped cars were in SM, so it was a fairly slow class. However, on the flip side, the fastest car of the day was a C5 with huge rubber, slammed to the ground, lots of power, and stickers all over. It was a dedicated race car and ran a 4th-run best of 46.1. Before that, he was in the high 46s, but nailed the last one. So, I was still 2.7s slower than a race-prepped C5 in the "X" class.
Altogether, i was extremely impressed by the V710s. They did things I had no idea were possible with my stock suspension, and I think I've only begun to learn how to use them. Btw, on my last run, I bounced off my rev limiter in 2nd (8000rpm) _TWICE_ during the course on both of the fast spots. No room to shift to 3rd, but that's pretty fast for me on an auto-x course...