Discussion Starter
·
#1
·
Now that I have my car well-prepped for SM, I decided to run X class locally, since that is where all the best drivers compete in an indexed fashion to help prepare for Nats. We normally get 4 runs in our events, but in X class, only the first 3 runs counts, which is how it works at Nats, so it's good mental preparation. I ran in X class over the winter series, but that series is for practice, so we didn't have most of the top drivers out there, and all of our runs counted. Therefore, this was the first REAL event for me in X, and I was a little nervous because of it.
This is how it went down. I walked the course and thought right up front that it was going to be pretty difficult for the Evo. The start had an immediate 90-degree bend (no launch), and the finish had a very sharp 100*+ turn, so there would be no hauling ass across the finish line. This combined with 4 different slaloms told me it would be a difficult thing to master in 3 runs. Well, here is my first run, and as the description of the vid says, t his is _NOT_ how you autocross. Take a look:
SCCA-RM 2007 Event #1 Run #1
Not only did I lose the rear around that early sweeper due to the tires being cold, but I hit about 4 cones, screwed up the slaloms, and ran hot into two features causing bad understeer (that's the driver, not the car). To top it off, I exceeded the decibel limit of 93, so the whole run was DNF'd anyway. That meant I really only had 2 runs to figure out what I was doing. Because of this pressure, I decided to leave the camera in the grid area so that I could focus on driving with no distractions. My 2nd run's raw time was pretty good and would have been good enough for 10th in X (10th overall), but I hit _5_ cones. I was all over the place and nicking cones on the inside (strange) quite a bit. My 3rd run, I decided to pull back a little and actually drive smoothly and in control. The result was it was a very easy run with no lack of control, but it wasn't fast. I ran .1s slower than the previous run, which still would have been good enough for 10th overall, but I somehow hit 1 cone somewhere without even knowing it. This chapped my hide, because I drove like a #### and still hit a cone unknowingly. That extra 2 seconds dropped me from a 10th place 950+ pt finish to 18th in X and only 921 points, which was less points than almost every event last year.
Ok, so then I got my 4th run, which didn't count, and I decided to just go back to driving hard like I normally do. I hit no cones and dropped a full second off my fastest raw time. This was effectively a 3-sec improvement, but it didn't matter in terms of X class. Compared to the rest of SM, it gave me a 1.6-sec win over an E36 BMW with 285F/385R Hoosiers, so that was still an accomplishment. It also would have given me 5th in X with 972 points. 972 is not great normally, but everyone got hammered in points due to Kevin Wenzel (2006 Solo Driver of the Year) bringing out his new FSP killer car (BMW 2002) and absolutely destroying everyone. Even his co-driver and car owner got 2nd overall with ease despite finishing way behind Kevin. 3rd and 4th were 1 and 2 tenths ahead of me, respectively, and they finished 2nd and 3rd overall in the RM region last year in the points standings, so I feel I am keeping good company now. Of course, to reiterate, that 4th run didn't count, so my final standings suck donkey nuts, but I consider it a learning experience, and by the time Nats rolls around, I'll have done this 8 times or so and might be able to nail it down on my first 3 runs by then.
Here's some pics, too. I was surprised by the amount of body roll I still have...
Most X class cars have national-level experience - you can see my car looks out of place, hah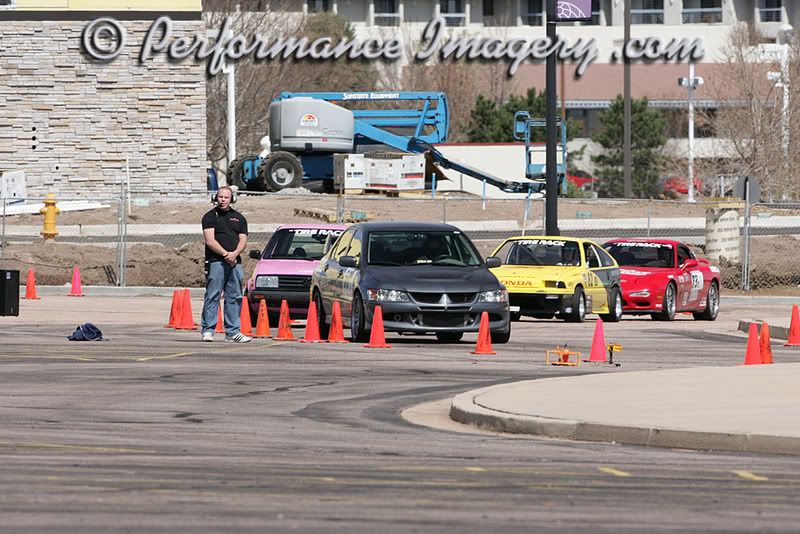 Gotta quiet that exhaust