Discussion Starter
·
#1
·
We finally got some good weather for a weekend, and all the snow/ice melted, so that allowed for a very nice event this Sunday the 18th. We were at a new lot, which led to quite a learning experience for me. At the last Winter event, I took first overall, but we didn't have many of the top drivers. Still, it was nice to win. This time, we had several of the top drivers from last year, so it was a big challenge. I decided to try out X class instead of SM, because that's where our top drivers compete in an indexed fashion. As I said before, this led to QUITE a learning experience.
The course was short and tight, which at first didn't seem to be a problem, but after my 1st easy run, I found that I could not drive 10/10ths the way I'm used to driving. I struggled to find out when and where I could actually get into boost, because each time I would tap the gas, I'd already be at the next gate and beyond my turn-in or braking point. This led to several mishaps and even one spin - very strange for me, but this was the first course I'd been on where I literally could not go WOT except for maybe 1 or 2 times, 1 of which was just through the finish line, and the other was leading up to a hairpin turnaround, so nothing during the meet of the course. Luckily, since there's less people at Winter events and the course being so short, I was able to get 6 runs. Normally, we'd only get 4, and X only counts their first 3 during the real summer series. It took me all the way to run _5_ to finally figure out a halfway decent method for getting through the course, but I clipped 2 cones on my right side. For my 6th and final run, I decided to drive it the same way but make it a point to avoid those 2 cones. I managed to avoid them, ran clean the whole way, and lopped off another .4s from the 5th run, which was a full second faster than my previous fastest raw time.
In the end, my 35.3 was good enough for 4th in X class, 4th overall indexed time, and 4th overall raw time. I was dominated by an ITR who took 1st and his co-drive took 3rd, as well as a Lotus Elise that took 2nd and was driven by a national champion (David Fauth). The ITR was actually at the last event that I won, and I beat him by .6s in index time on a longer course where I got to use my power. This taught me that you have to be ready to adapt to any type of course whether it suits your car or not. I'm happy that I pulled out a solid run in the end, but I also realize that during the real season and during any Divisonals/Nationals, I'll only have 3 runs to figure things out. That's the beauty of these Winter events, though. It is giving me time to learn this new awesome setup, and so far it's working well.
Here's a vid of my best run followed by several nice pics:
A little countersteer to save my "ass" (literally)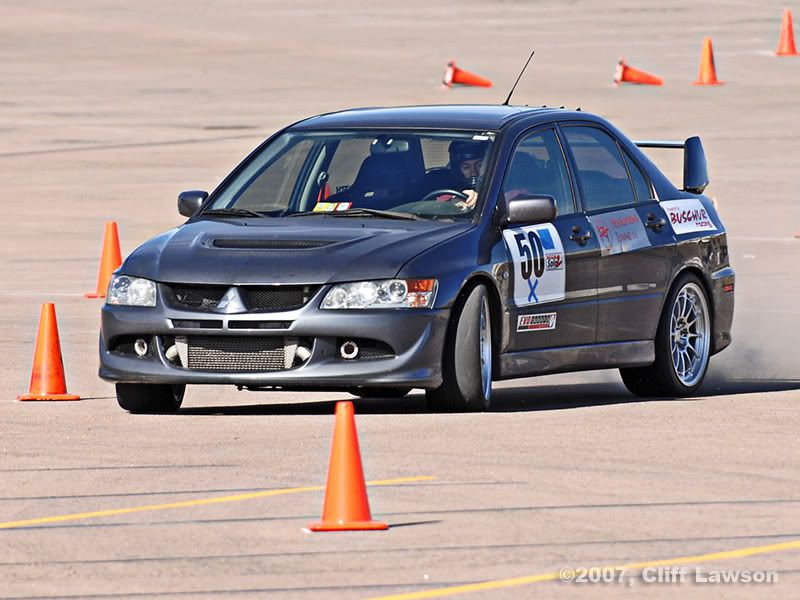 Buschur FTW!