Best investment you will ever make with your Evo. Our MAFTPro can log like 32 different parameters at once, but I still use the zt2 for tuning and logging instead.
P.S. I have blocked out some of the tuning parameters here as not to parade it on the internet.
ON THE DYNO:
And a drag race run...
There is a new black anodized color for the LCD screen now available!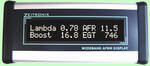 OR